If you have ever watched cooking shows online, or on the Food Network, you may have noticed a common piece of advice given by the best chefs from around the world.
This piece of advice is so vital to the cooking process, and ultimately, the quality of the finished product, that it is amazing more people don't follow it stringently.
Of course, the piece of advice in reference is "buy the best ingredients."
It seems so simple when you see it spelled out, but often people will go to their local grocery store and just buy the cheapest, or largest portion, of the product they wish to consume.
This is a mistake! Buying high-quality foodstuffs is essential cheating when it comes to making delicious food because the cooking process is secondary to the flavor. A cheap, thin, and gristly steak will not be magically transformed into a sirloin with the right cooking process or seasoning. Therefore, ordering steaks online should be done with an appreciation for this nugget of advice, and high-quality vendors should be sought out.
Guarantee the Quality of Ordering Steaks Online
When you place an order of steak online, look at the vendor's webpage, and ask yourself some important, yet simple, questions, Like:
where do they source their meats, do they buy from local producers, how do the images look on their website, how well are they reviewed, and so the list goes on.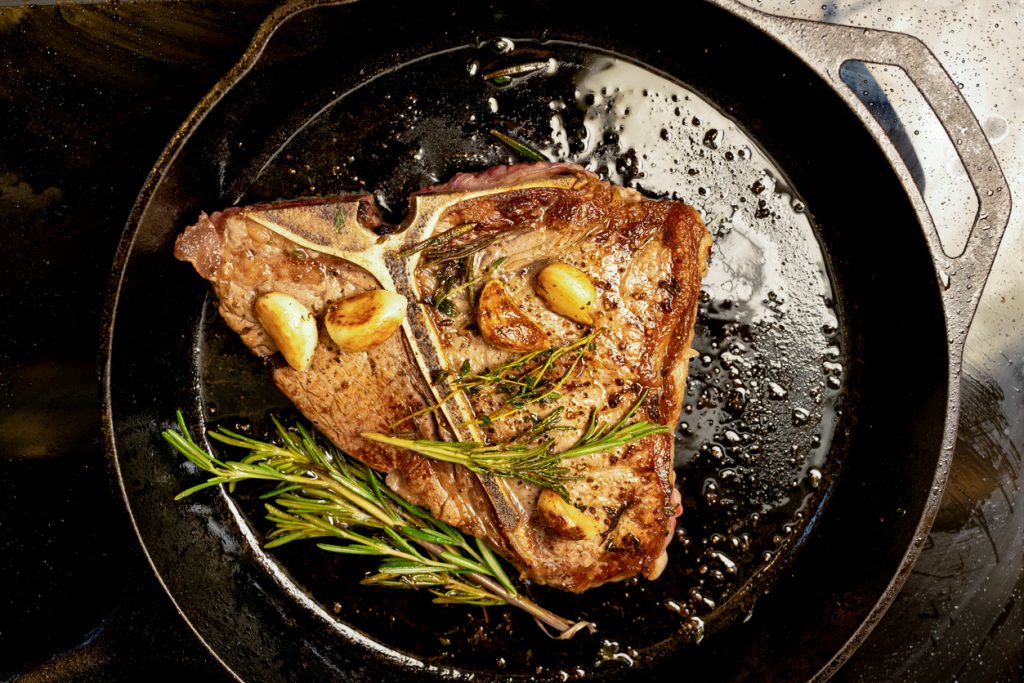 It helps to create a list of these questions and go through the trouble of recording your experience with individual purchases. This is because you will eventually find the RIGHT vendor, and when you have consistent quality from a reliable source, you will see your cooking dramatically improve.
But once you order steaks online, there is still something to be considered with the cooking process, and that is:
Order Steaks Online and Season Effectively
Now that you have your perfect online steak vendor on the shortlist, and you are consistently getting beautiful cuts of meat, how do you prepare great steaks every time? Here again, the sage wisdom of the collective voice from chefs all around the world comes into play.
Don't overseason or prepare your meat!
This is great advice. You don't need a blend of 11 herbs and spices to make a great steak, because you already have the best ingredient there is. High-quality meat. A simple rub of salt and pepper, loving cooked to perfection, will be more than sufficient for delight from everyone who partakes in your meals. Thankfully, this piece of advice holds true for all types of cooking, and especially, all types of meat.
So, find a great place to order steaks online, and see the difference quality can create!
As a family-owned Calgary based company, Bow River Meat Market is here to provide you with top-quality meats for all your meals. For the past 32 years, we have been delivering unparalleled customer service by always putting our customers first. You can buy meat online with us, saving you time and money. We will do what it takes to make sure that you get the top-choice quality meats. Our steadfast belief in sourcing from local areas means that we will provide you with the freshest meat on the market. To enjoy the best in Canadian meat, feel free to visit us at 6303 Burbank Road S.E. Suite 5 Calgary. We can also deliver what you want, so to order steaks and meat online call us on (403) 253-8423 to place your order!