The ways in which we grocery shop continue to change. Rather than hopping in our cars and driving to the nearest grocery store, we can now turn to our computers and have our groceries conveniently delivered to our door.

That means it's never been easier to buy pork online. By turning to a reputable meat provider, you can be certain that the quality of your order will far surpass anything you'd find in stores. 

However, buying pork is only half the battle. With busy after-work schedules, actually cooking the food you bought can feel exhausting. Fortunately, here are three simple ways to cook pork chops in no time.

3 Ways To Cook Pork Chops

In The Pan

There's nothing worse than overcooked and dry pork chops. Fortunately, it's incredibly easy to pan-sear a pork chop to perfection. Simply season your pork chops (Italian seasoning, salt, and pepper are a great place to start) and throw it onto a cast iron skillet with some olive oil over medium heat. Once the one side is a nice golden brown, flip the pork chops over.

This should take roughly four minutes for each side, but don't rely on cook time alone. By using a meat thermometer, you can ensure your pork chops are properly cooked. However, you can remove the pork chops from the heat while they're still slightly undercooked, as the residual heat will finish the job without leaving you with a dry pork chop.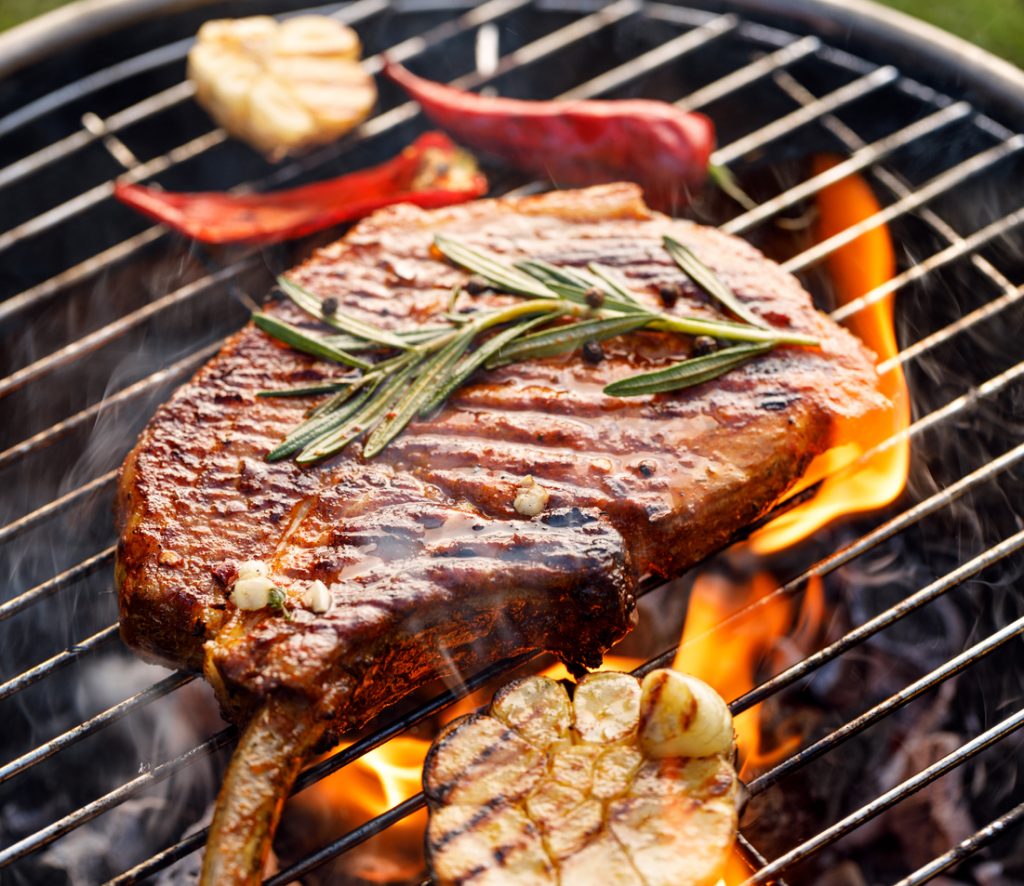 On The Grill

Cooking your pork chops on the grill is another quick way to end up with a tasty meal. Start by preheating your barbecue to a medium-high heat, around 400 degrees Fahrenheit. Next, to create a beautifully caramelized coating, combine brown sugar, kosher salt, pepper, paprika, ground mustard, and cayenne pepper. 

Sprinkle the mix onto your pork chops and massage it in. Then place the pork chops onto the hottest part of the grill for two to three minutes on each side before transferring off the direct heat and grilling for another five to six minutes on each side.

In The Oven

This method will only take 20 minutes to cook. Preheat your oven to 400 degrees Fahrenheit before mixing paprika, onion powder, garlic powder, salt, pepper, and oregano in a bowl. Drizzle your pork chops with olive oil before sprinkling the spice mix on top. Then place your pork chops in the oven for roughly 18 minutes. However, as mentioned before, rely on your meat thermometer over the cooking time, as it will ensure a better-cooked pork chop.

As a family-owned Calgary-based company, Bow River Meat Market is here to provide you with top-quality meats for all your meals. For the past 32 years, we have been delivering unparalleled customer service by always putting our customers first. You can buy meat online with us, saving you time and money. We will do what it takes to make sure that you get the top-choice quality meats. Our steadfast belief in sourcing from local areas means that we will provide you with the freshest meat on the market. To enjoy the best in Canadian beef, feel free to visit us at 6303 Burbank Road SE Suite 5 Calgary. We can also deliver what you want to order steaks and meat online. Call us on (403) 253-8423 to place your order!